Shopping Cart
Your Cart is Empty
There was an error with PayPal
Click here to try again
Thank you for your business!
You should be receiving an order confirmation from Paypal shortly.
Exit Shopping Cart
Morocco / Marrakech / Imlil
Maroc Travel- Marrakesh excursions
Marrakech, Morocco's most exciting city, this is were we start our very nice combination trip: biking, hiking and a camel trip into the Sahara desert .... for € 1.080,- p/p
with:
5 nights in Marrakech
- 4 days biking (the easy 4 days of our easy biking program)
- 4 days hiking Jebel Saghro with bivouacs in the middle of nature
- 1 night with a cameltrip into the Sahara desert
Departures in 2014:
- February 22
- March 20
- November 18
Only the intercontinental flight to Marrakech and your bike are not included. The flight you can easily book yourself. Try cheap flight companies like Easyjet, Ryanair, ..
With most air companies you can 'ship' your bike as a special attribute or sports article. Most companies charge about € 50 for a one way trip for your bike.
Locally there are some bikes to hire. For one week this will cost you about € 120. Do not be surprised if you do not get the quality you are used to.
We definitely advise to bring your own bike !!
Like to make your reservation? Just send an e-mail to
[email protected]
Do not wait too long; the nummer of places is limited
(max. 12 per group!)
VTT au Maroc - dans les montagnes magnifiques du Haut Atlas et pour pedaler vraiment dans tous les terrains.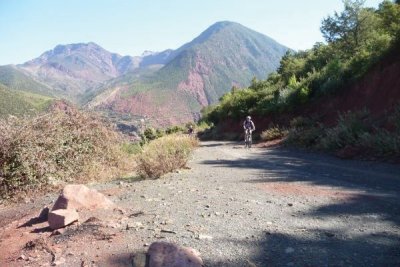 C'est presque "
le Nepal petit
", avec des petis villages et des jardins verts avec l'orge et du blé et des noyers.
Tour complèt du 8 jours avec 6 jours du vrai VTT.
Prochain départ:
2015 - Octobre 10 avec guide local
2015 - Octobre 17 avec intructeur Europeen.
Nous commencons dans la ville magique de Marrakech (prononcer: Marrakesj) pour faire un tour très, très, très special dans les montagnes rurals de Haut Atlas.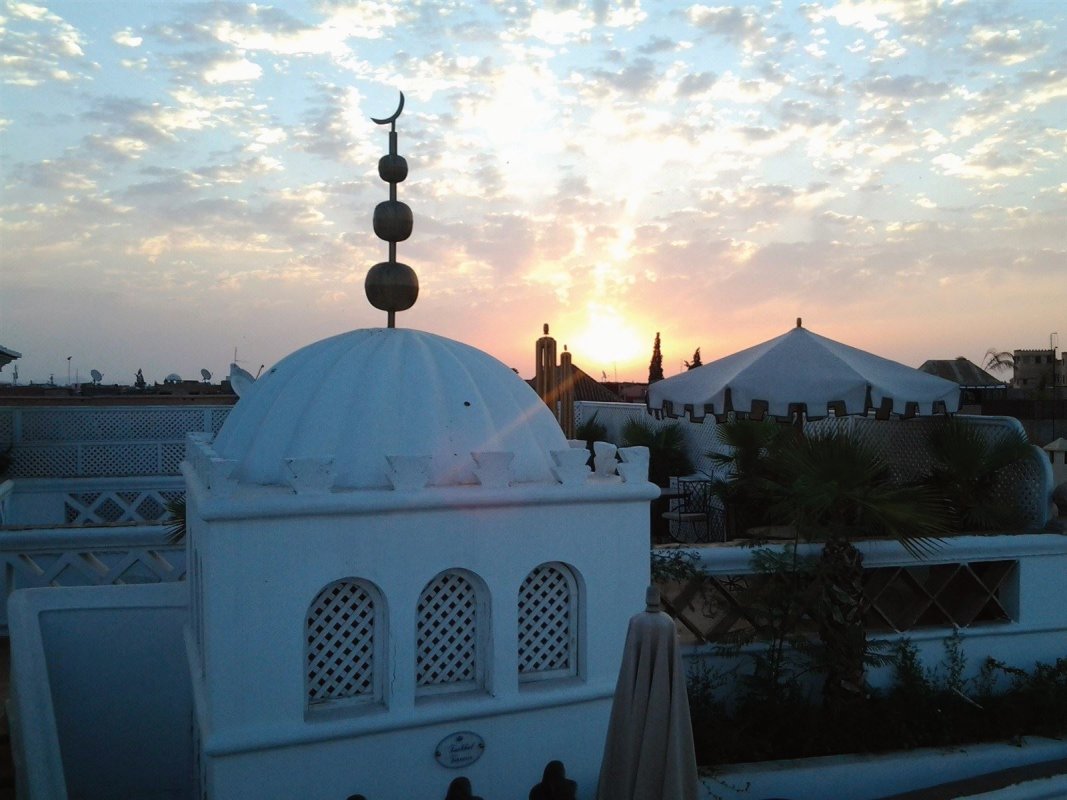 VTT au Maroc c'est plus que VTT dans les montagnes, tu entre un vie et un monde complètement different que 'chez nous' avec tous les couleurs et douceurs. Dans les montagnes nous sommes loins des villes modernes et nous voyagons dans des regions loins et isolés. En passant des vallées et des villages pittoresques.
Nous prenons quelquefois le goudron, le plus part de notre route c'est sur des pistes et des traces; quelquefois même pas plus que un petit sentier pour les mules.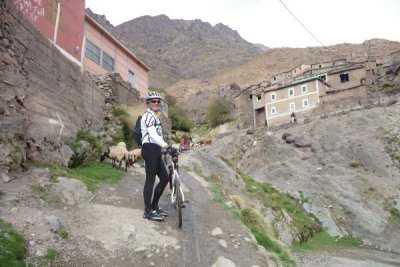 Le tour est organisé complèt avec des picnics biens et une voiture suivante pour notre bagage. Il y a un tourleader Européen qui pedale avec nous.

8 jours avec 2 nuits à Marrakech = euro 575 p/p
vol international et bicyclette pas inclus!
Tous les jours il y aura une montée et heureusement une descente aussi. Pour les fortes il y a une montée 'zig-zag' optionel le jour 4. Et jour 5 nous montons le col Tizi Mezzik a pied pour continuer sur le col sur la bicyclette et faire une descente adorable dans le vallee de Azaden. Pour monter le Tizi Mezzik notre bicyclettes sont transporter sur des mules ...
Ca c'est du vrai avonture.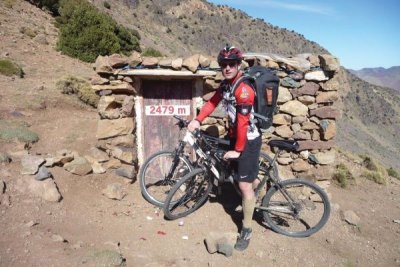 vous voulez reservé votre place?
/